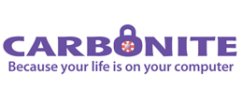 You might be asking yourself whether Carbonite would be of any use to you, but backing up your computer's data is becoming increasingly important. As well as the work and personal computer data files being lost, when you consider that most people now use digital cameras to record their life, fun times with their friends and their family history, you cannot replace all those, you need to back these files up!
I used to be one of those people who tried to back up their computer files as often as they could…manually…onto a separate external hard disk, but as with anything that you need to remember and set time aside to do, it would take ages to do and quite often it would get put off in favour of other more fun activities like…well anything else!
[Read more…] about Carbonite Review – Online Computer Backup Done Right!